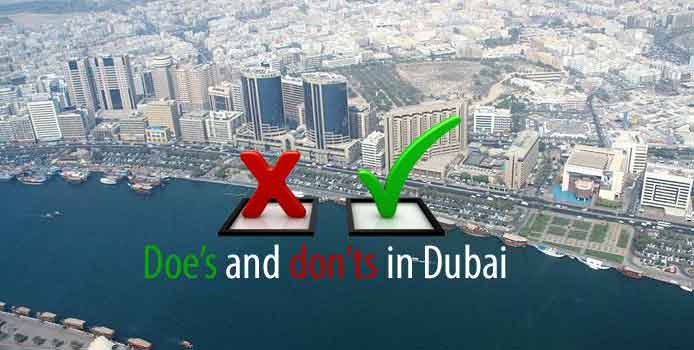 Welcome to Dubai, One of the new wonders of the world. From the plane it looks like a modern, sophisticated western country, but don't be mistaken.
Different culture, different religion, different believes, different people – all that is asked from you is to respect the local customs and believes and to understand that behavior rules here are different.
In order to avoid misunderstandings or unfortunate incidents and enjoy a relaxed vacation in this beautiful place, these are the important do's and don'ts of Dubai.
At first one must understand that this is religious Muslim country that is run according to strict Muslim law. Law enforcement personal take their job seriously and tend not to have a sense of humor. Please do not try to be funny. This will not work.
Respect the local laws at all time and this will assure you will have a pleasant and enjoyable stay in Dubai.
Alcohol – Alcohol is forbidden by the Islamic law. Never the less, alcohol can be bought in the hotels or places with license. Consuming alcoholic beverages is allowed only IN the hotels or restaurants. Do not drink or be drunk in public places. Severe punishment and fines are applied.
Drugs – please note there are strict laws against drug use at all tome in all places. Death penalty and life impressment are applied. DO NOT TEST THE SYSTEM as there is zero tolerance.
Intimate relations outside marriage – local laws forbid sexual relationship outside marriage. This means that a romantic vacation is not a possibility If you were planning to take someone else besides your wife/husband
Same sex relations – A BIG no no. Islamic rules forbid same sex relationship. Punishment is in accordance…
Women – do not harass, compliment, stare, take a picture or have direct eye contact with local women.
Smoking – There are restrictions on smoking in public places like any modern country. Basically do not smoke in governmental facilities, public offices, shopping malls and shops. If you crave a smoke, do it only in designated areas. Fines apply so don't say you didn't know…
Appearance – the main word here is modesty. On the beach you can run around in your swimming suit or bather but please avoid any topless scenes. DO NOT leave the beach wearing a swim suit. Put on a shirt, pants etc. Walking around half naked will get you arrested.
Bottom line is, do not try to be smart and bypass the firm restrictions. There is no tolerance for some of the rules (drugs for example) and a great respect to the religion and the costumes.
FYI – there are more than one example of western tourists that tried to be funny, ignore the local laws and act freely. The outcome was fast and painful.
If you follow the rules above and respect the religion and the place, you are sure to have a great vacations in one of the most interesting places on earth today.